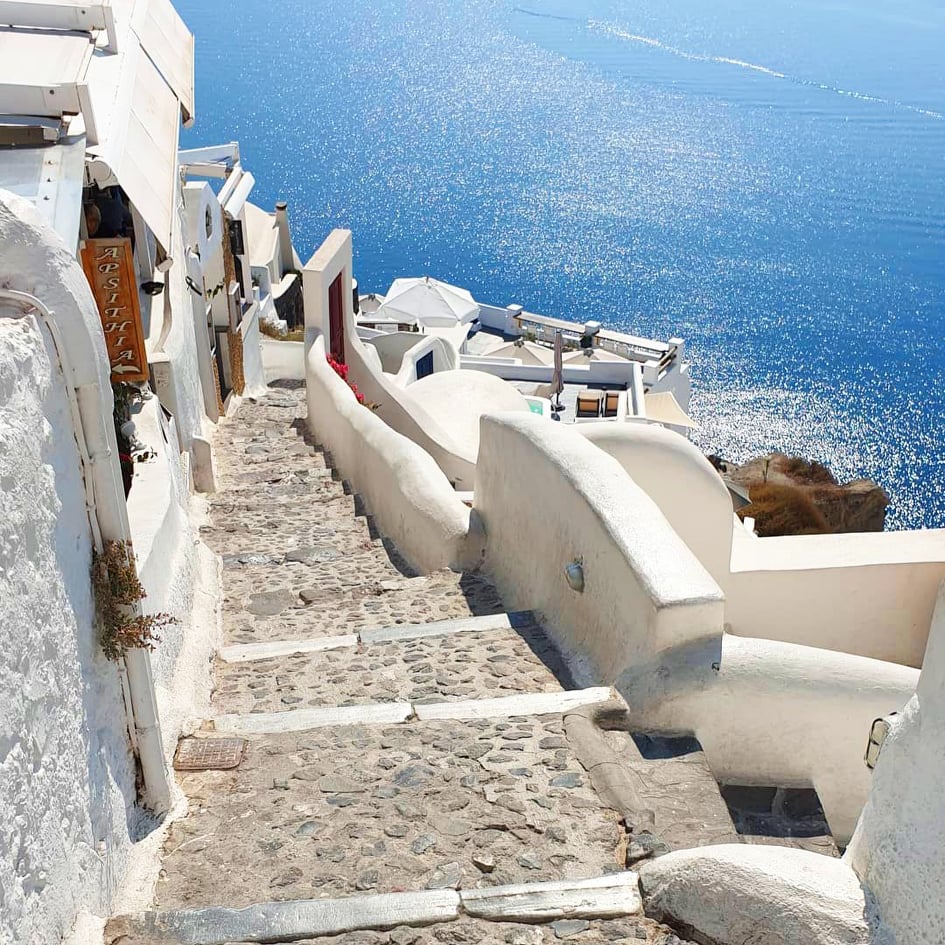 Santorinis villages are considered among the most beautiful villages of the Greek islands, and despite the island's augmented growth in tourist facilities, the Cycladic traditions and architecture have been strictly preserved and continue on thriving to this day. For such a small island, the villages of Santorini are remarkably varied – the famous calderan villages of Oia, Firostefani and Imerovigli maintain the cubic, whitewashed structures with blue details, the neat narrow pathways and charming churches, while other settlements like Megalochori, Emporio or Karterados are more authentic and moderate in their style, daily life and facilities. We invite you to take a look at the beautiful villages of Santorini:
AKROTIRI
Akrotiri is 11.3 km south west of Fira. Located next to the famous Red Beach, the village of Akrotiri is amphitheatrically built in the southeastern part of the island. Originally a Minoan settlement, the ancient city of Akrotiri, destroyed by a volcanic eruption, is the most important archeological site in Santorini. The modern town, with its picturesque alleys, blue-domed churches and traditional houses, is home to many restaurants and tavernas and it is definitely a great stop to have dinner after watching the sunset at the lighthouse.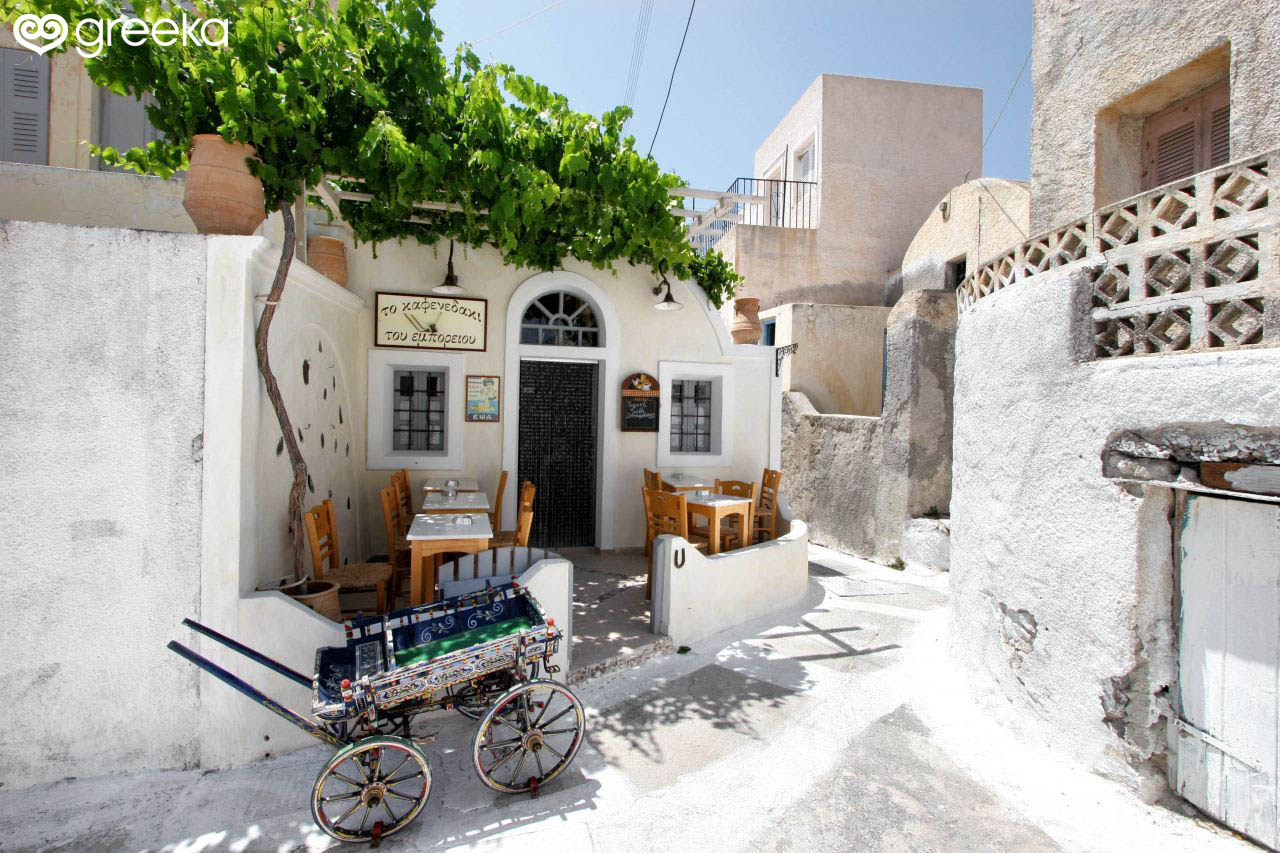 EMPORIO
Emporio is all tiny stone-built houses and slim, meandering alleys leading up to a fortified Venetian castle. Cycladic blue-domed churches and flowery courtyards dot the medieval landscape and 8 old, abandoned windmills guard over this peaceful settlement from the ridge of the nearby Gavrilos hill. Although it is the largest village on the island, Emporio has managed to retain its traditional character. The architecture in the well-preserved Kastelli (castle) area is particularly unique with tightly packed houses, steep staircases, and arched needlelike alleys that seem to lead nowhere. The rounded corners and irregular, flowing shapes of the structures give the entire place a, whimsical feel.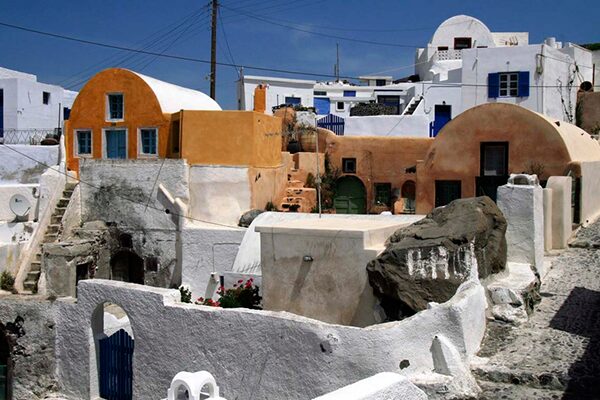 FINIKIA
Finikia is 12 km north west of Fira and is a charming settlement located next to the famous village of Oia. It is a very small, charming village of traditional Cycladic houses and churches. Finikia is one of the most well-preserved settlements in Santorini and a nice alternative to Oia. The small church of Kyra Panagia (Lady of the Virgin) is the ideal spot to enjoy a breathtaking sunset in total peace. The settlement has a few hotels and guest rooms.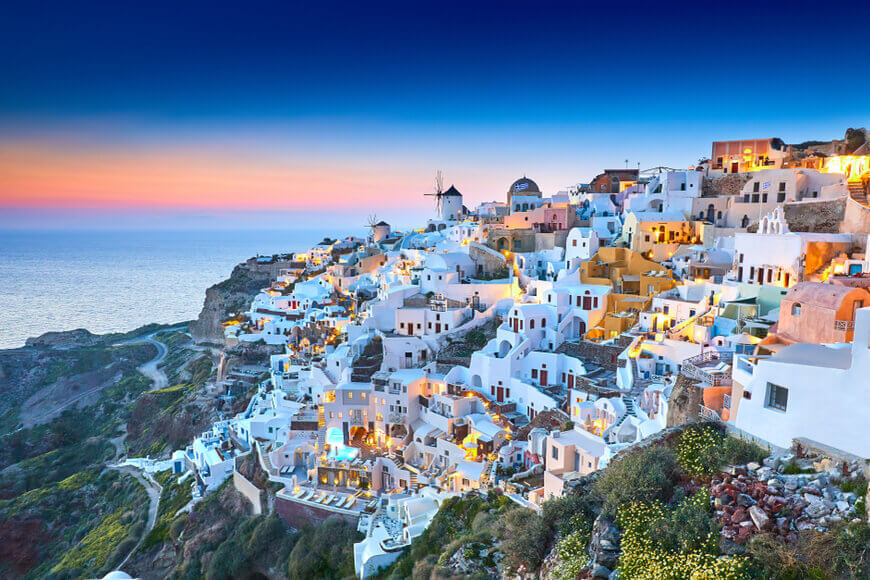 FIRA
Fira is 8.5 km from the main port, Athinaios and is the capital of Santorini. It's where the cruise ships come in and send their passengers up the cable car from the port to the town. It's also where you can catch a bus to virtually anywhere else on the island. Fira is also a stunning cliff-perched town, featuring all that Oia has, but much more overcrowded during high season.
FIROSTEFANI
Firostefani is 2.6 km north of Fira, located between the two famous villages of Fira and Imerovigli. Here you can escape some of the crowds of Fira and explore a number of rustic walking paths with picturesque views. And because Firostefani is so near Fira, you won't miss the breathtaking views of the caldera, just the bustle of the capital. When you're through, you can stop in at a little restaurant or bar set against peaceful natural backdrops before heading back to your hotel.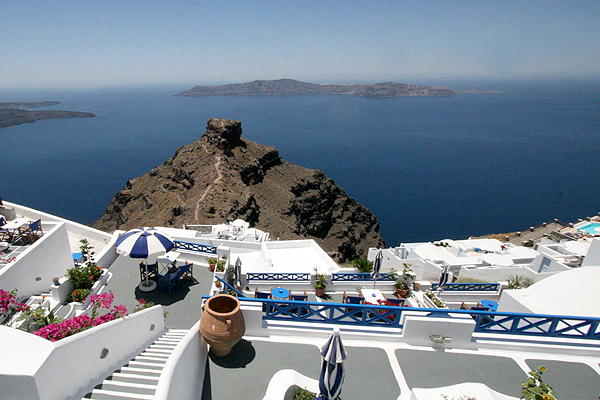 IMEROVIGLI
Imerovigli is conveniently close to the capital, being only 3.5 km north west of Fira. Perched at the highest point of the caldera's rim, Imerovigli is arguably the best place in Santorini to watch the sun go down over the iconic volcanic crater. Just like Oia, it is praised for its sensational Aegean views, hypnotizing sunsets, and delightful abodes carved into the cliff face, but it's considerably quieter and more laidback.
It plays host to beautiful sea-view churches, striking hotels with quintessential cave rooms, as well as a handful of gourmet restaurants. It is also known for Skaros, a rocky headland which was once the largest fortified settlement in Venetian Santorini and offers some of the island's best hiking.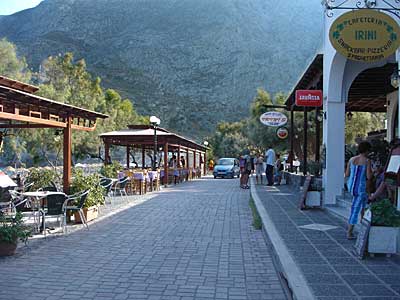 KAMARI
Kamari is a cosmopolitan beach resort on the south east of Santorini, with a stone-paved promenade which is closed off to traffic during the summer months.Kamari offers a wealth of cafes, bars, restaurants, shops and supermarkets, as well as a lively nightlife. The beach is organised, with sun beds, umbrellas, water sports and diving.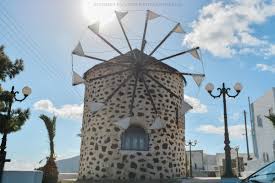 KARTERADOS
Karterados is 2 km south east of Fira, more or less in the centre of the island. Historic Karterádos is an inland village with a cluster of whitewashed chapels, including St. Mary's Church, with a red dome. Cave houses date from the 17th century, and a restored windmill sits in the main square. Surrounding streets are lined by lively tavernas, curry houses, and pizzerias, plus a few stylish boutiques. Elegant hotels with spas overlook the caldera clifftop, with noted sunset viewing points nearby.
MEGALOCHORI
Megalochori is one of the most traditional villages of the island and you'd be hard pressed to find a more quaint village on Santorini. Stately neoclassical mansions, time-honored wine canavas, and typical white Cycladic houses jostle for space along stone-cobbled pathways. Its tiny central square, shaded by trees and decked out in colorful bougainvillea, makes for a nice place to take a break, enjoy a slice of village life, and indulge in authentic Greek specialties at one of the quaint taverns.
Home to fertile vineyards and a couple of world-famous wineries offering tours and delicious wine tastings, Megalochori is also a wonderful destination to learn about Santorini's winemaking history and tradition.
MESARIA
Mesaria is 3 km south east of Fira. This charming village sits on the edge of Santorini's caldera, and its terrace bars, tavernas, and elegant hotels are popular sunset-viewing spots. The neoclassical Argyros Mansion has a museum of lavish antique furniture, and Canava Santorini ouzo distillery is open for tours and tastings. Agios Dimitrios Church is notable for its pebble-dashed exter ior, and St. Paisios of Mount Athos for its vibrant frescoes. The centre of the island. There is a small market on the road every morning with fresh fish.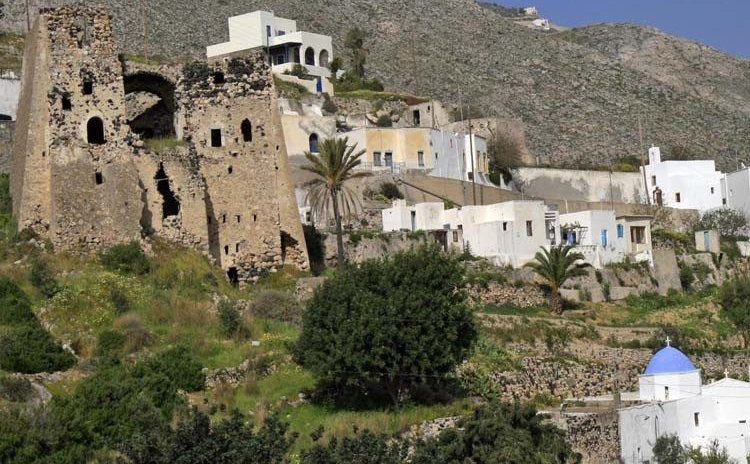 MESA GONIA
Mesa Gonia is 6,5 km south east of Fira. Although small, it is absolutely worth visiting. Quiet Episkopi Gonias (it's official name since 1915) sits on the flank of Mount Profitis Ilias. Abandoned for many years after a 1956 earthquake, its alleys are now lined with restored whitewashed cottages, tavernas, and boutique hotels, some in caves carved from the rock. Vineyards producing Assyrtiko white wines cover volcanic slopes around the village, and the domed, 11th-century Panagia Episkopi church (for which it's named) nearby has a noted collection of icons.
MONOLITHOS
Monolithos on the south east coast, took its name from the large rock 'Monolitho' upon which stands the church of Agios Ioannis. It has a lovely beach and a few good taverns. The water is shallow so it is ideal for families with children.
Monolithos has the only Tomato Canning Factory still operational on the island. The factory belongs to the Cooperative Association of Theraic Products.
OIA or IA
Oia (pronounced I-a), located on the northern point of the island, is 12 km north west of Fira, and is the most photographed of all villages on Santorini. Home to magical sunsets, chocolate-box architecture, and delightful art galleries, it is also its most frequented destination. Every evening, thousands of people crowd the tight little streets and winding steps of Oia for the sunset. The village is a listed historic monument, and its residential alleys and lanes were the first in Greece to be listed as an archaeological historic monument by the Hellenic Tourism Association.
A part of Oia that few people take the time to see, however, is Ammoudi, the village's port, 200 stairs belo w. It has a few lovely fish restaurants and cafes and it is the perfect spot for cliff diving.
ORMOS ATHINIOS
Athinios is 8.5 km south of Fira and is a port rather than a village. Backed by stark volcanic cliffs, Órmos Athiniós handles ferry routes between Santorini and destinations including Naxos and Ios, plus Piraeus on mainland Greece. Simple cafes and pizzerias, ice cream stands, and souvenir stores selling jewellery and ceramics cluster around the harbour. Taxis and buses to villages across the island wait near the dockside, and companies offer vehicle car rentals.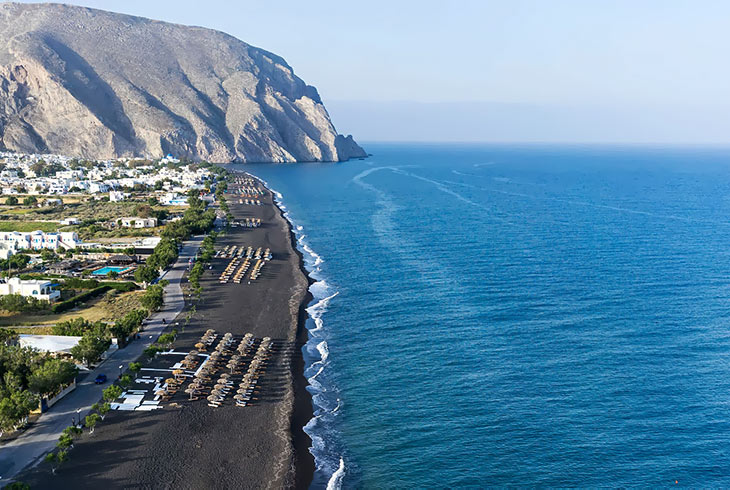 PERISSA
Perissa is a seaside village on the south east coast of Santorini with several kilometers of dramatic black sand beach. Towering over the beach on the north side is the mountain of Mesa Vouno which is believed to be the place where the ancient city of Elefsina used to stand. One of the largest churches on the island, Timiou Stavrou can be found in Perissa square. Perissa connects with Perivolos where you will find great fish taverns and an up-market clubbing scene.
PYRGOS
Pyrgos is 4.5 km south east of Fira. Its traditional whitewashed buildings, ruins of neoclassical mansions, and picturesque blue-domed churches, make it a treat to wander the narrow winding paths of Pyrgos. Subdued, authentic, and refreshingly devoid of tourists, the village is wrapped amphitheatrically around a hill crowned by the well-preserved remnants of a Venetian castle. Its privileged position in one of the highest spots of Santorini provides incredible panoramic views of the whole island all the way to pastel-tinted Oia.
Pyrgos' fortress-like architecture is at its most magical on Good Friday, when the entire town is lit up with thousands of tin lanterns during the solemn evening procession.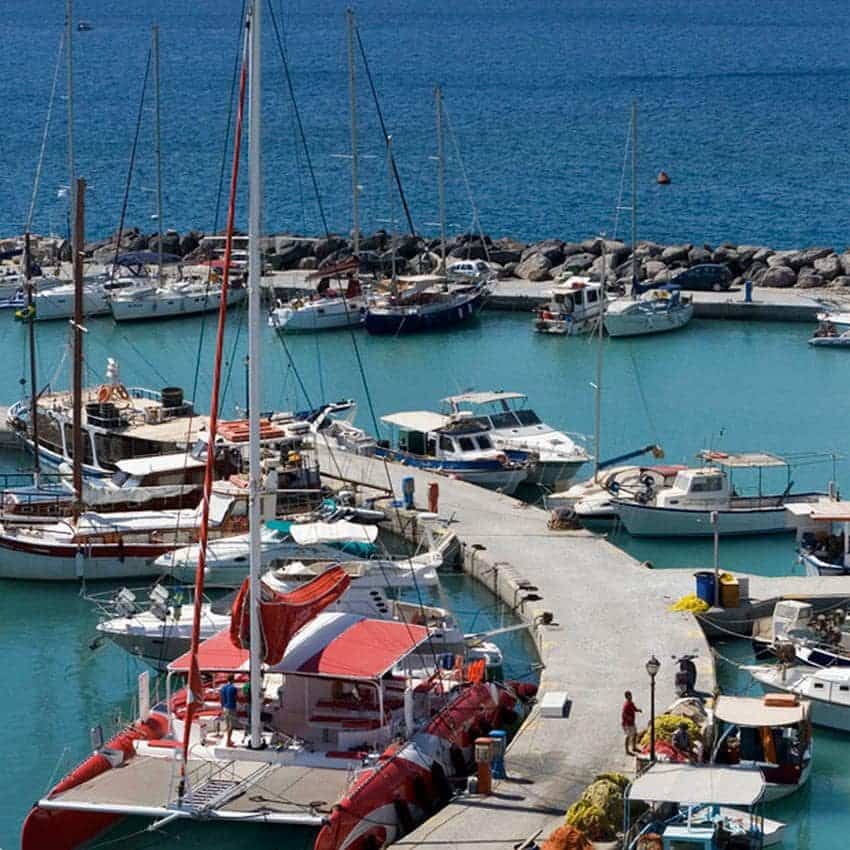 VLYCHADA
A small village with a charming port close to the beach. Small yachts and boats anchor in the marina there and you can enjoy a meal including fresh fish in the local, traditional taverns. It is famous for its peaceful beach surrounded by incredible cliffs naturally carved by the wind, the volcano and the sea. Additionally, you can visit the Tomato Industrial Museum, a former tomato factory, and enjoy a guided tour concerning the traditional methods of cultivation and production of the tomato, a well-known product of Santorini.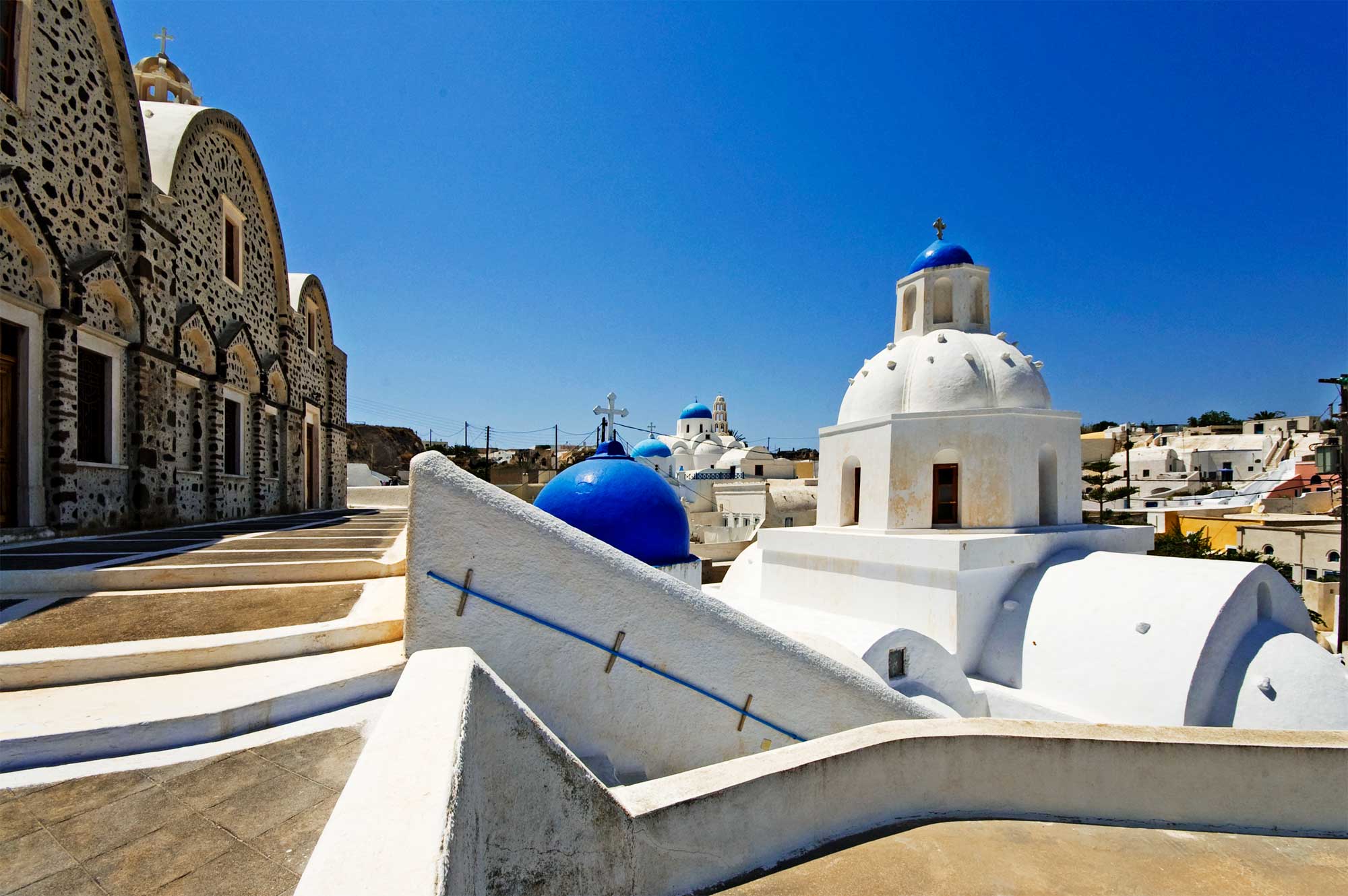 VOTHONAS
Vothonas is 4 km south east of Fira surrounded by vineyards. Peaceful Vothonas is a whitewashed village tucked into a steep valley, with many dwellings and elegant hotels set in cave houses carved out of volcanic rock. The Koutsoyannopoulos Wine Museum displays wine-making machinery and tools in a former wine cave, and the blue-domed Agia Anna Church has a tower with 9 bells. Alleys are dotted with tavernas, popular for their sea and sunset views.